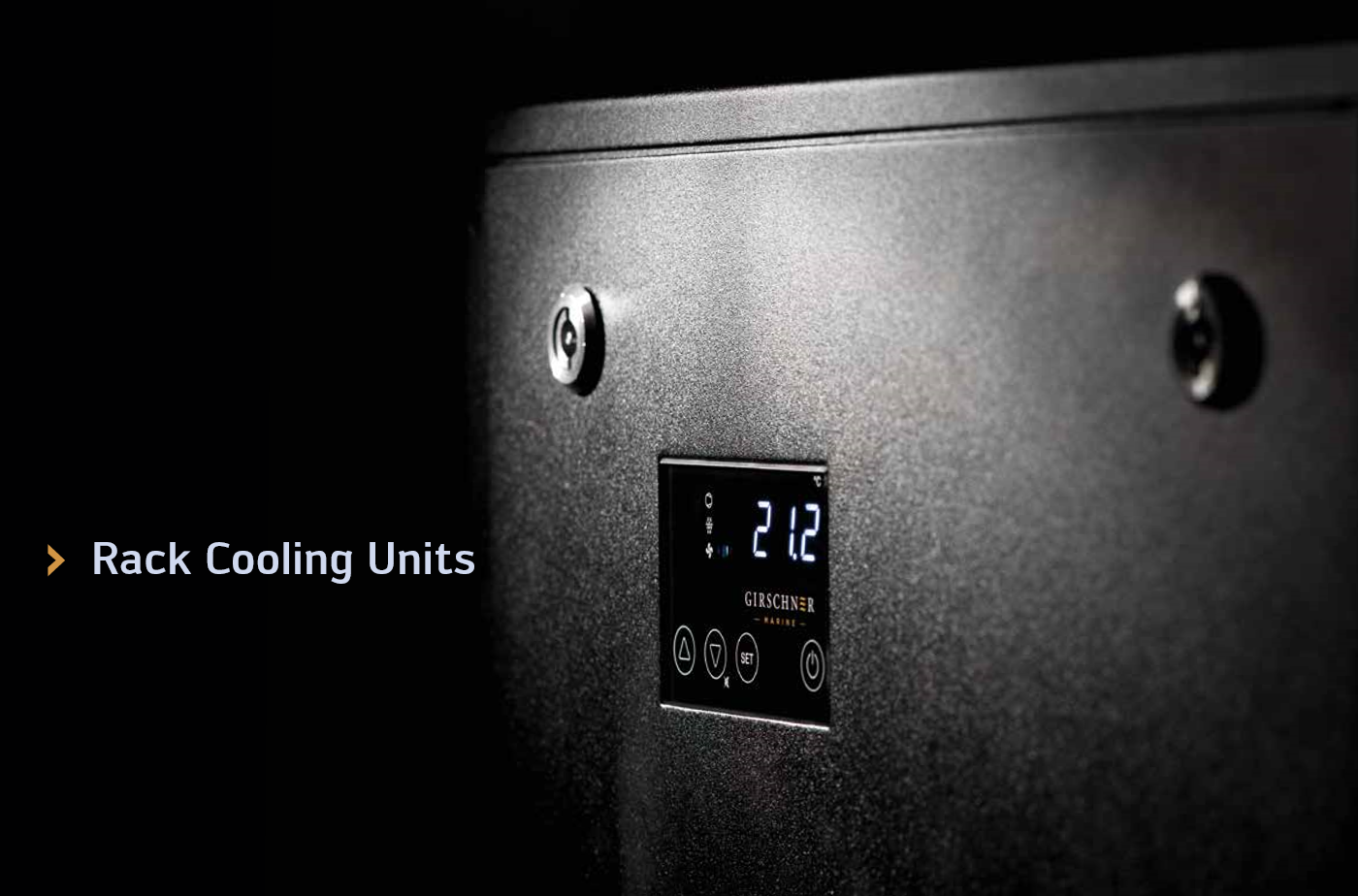 Rack Cooling Units
Water cooled heat exchanger
Rack Cooling Units
Air/Water-heatexchangers
from 1,000 W to 20,000 W
The Rack Cooling Units (RCU) air/water-heat exchangers achieve, depending on the provided cooling water, a high cooling effectiveness. A cooling capacity of 1,000 to 20,000 W can be achieved at temperatures of 4 to 8 °C cooling water inlet and air temperatures from 27 to 35 °C. The construction design is a perfect balance independent of ambient influences and maintenance accessibility unlike other cooling units on the market. The entire casing is made of stainless steel. Only brand-named and renowned components are installed inside. Higher energy efficiency is reached due to reduced power loss and heat development of EC fans inside. All Rack Cooling Units are equipped with electronic touch controllers. The Rack Cooling Units are highly recommended for the use in applications with high ambient temperatures or heavily polluted ambient air.
The Rack Cooling Units can be equipped with several optional extras such as condensate pumps or other voltages. All Rack Cooling Units can be designed according to customer requirements.
Standard advantages:
High cooling capacity yet space-saving
Stainless steel, powder-coated

EC fans and electronic controllers

Ideal for rough environments

Bleeder valve for airing

Air filters
Electronic Controller
The GIRSCHNER controller is operated via touch buttons and is equipped with a high-quality glass pane. Functions like
power on / off, temperature setting (between 20-35 °C), status messages, and alarms are available by default. Alarms can be forwarded via a potential-free alarm contact. A connection via modbus or to a network for remote monitoring is available.
OPTIONAL EXTRAS.
All solutions can be modified in size, design and equipment to customer requirements. Optional extras can be:
Air flow out from side to top

Condensate pump

Direct expansion

Transfer duct for air flow out at front

Voltages, other than 230
Rack Cooling Units are available in four different solutions
19" integrated Rack Cooling Units
From 1,000 W to 6,000 W*
Side-munted Rack Cooling Unit
From 1,000 W to 20,000 W*
Top-mounted Rack Cooling Units
From 1,000 W to 8,000 W*
Between-mounted Rack Cooling Units
From 8,000 W to 20,000 W*
* Reference data: Water with 20% glycol | Water inlet 6°C | Water outlet 12°C | Air inlet 35°C | Humidity 50% r.F.